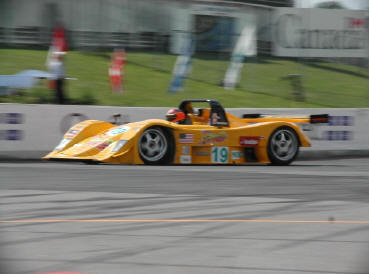 ALMS Rookies Earn Podium at Trois-Rivieres
Trois-Rivieres, QC (August 3, 2002) – There were great rookie results for Melanie Paterson and Paul Fix in the American Le Mans Series Race today.  The #19 Schneiders Hot Rod Lola / Nissan fielded by Essex Racing of Atlanta, earned a third place finish in the LMP 675 class.
The three hour endurance event was televised LIVE on the SPEED Channel and started with excitement in turn 1 with a multi car crash and that brought out the first yellow flag.  The #19 car ran as high as first place in class, before finishing the 3 hour race in third when the checkered flag dropped.
Driver Quotes-
Melanie Paterson:    "It was a great first race and I'm glad that we earned a podium finish."  "The track was very tight, with limited passing opportunities."  "So we all had to be very heads up!"  "Everyone at Essex Racing did a great job, and worked really hard getting the car ready for the race."  "It was a good building block and I'm looking forward to Mosport."
Paul Fix: "It was challenging as I had to learn the track as well as the car, with those elements it was a well earned finish."  "Trios-Rivieres is a true street course, with all the bumps, camber changes which makes for a challenging drive."
Paul Fix is currently racing in the Trans-Am series and will take the green flag in his #77 Fitdv.com Jaguar tomorrow at the Trois-Rivieres circuit.  The race will be televised on the Speed Channel at 2:30p.m. LIVE.
Veteran racer Melanie Paterson of Toronto, Ontario will be racing next on August 18th at Mosport Park in her second American LeMans Series Race.  That race will be televised LIVE on NBC at 2pm.