Paul Fix and the Royal Purple Jaguar Capture Another Top 10 Finish in Trans Am 
Race Results – Saturday, June 29, 2002

Paul Fix and the Royal Purple Jaguar Capture Another Top 10 Finish in Trans Am
Paul Fix and the Royal Purple Jaguar XKR finish 9th at the Buckeye 100 at Mid-Ohio this weekend.  This is Pauls second top-10 finish in the BF Goodrich Cup Trans Am race.  This will really help his points standing with 2-9th place finishes and 1-11th place finish.
Through all of the battling up front, Jaguar driver Paul Fix was waging a battle of his own. His car refused to fire on the grid and he sat in the pits as his crew frantically worked on the car.  Fix did get out on the track and was trying to catch the field as they took the green flag. Fix drove smartly to move up through the field to finish a strong 9th place finish.
Race Quotes:  Paul Fix – "We had a problem getting started on the grid and then the pit officials held us up at pit out so catching was a little more difficult."  "The team decided to gamble and not make the fuel stop."  "We were lucky, the team was a great support as we drove from last to 9th place."  "Another 9th place finish will help us in the drivers points race."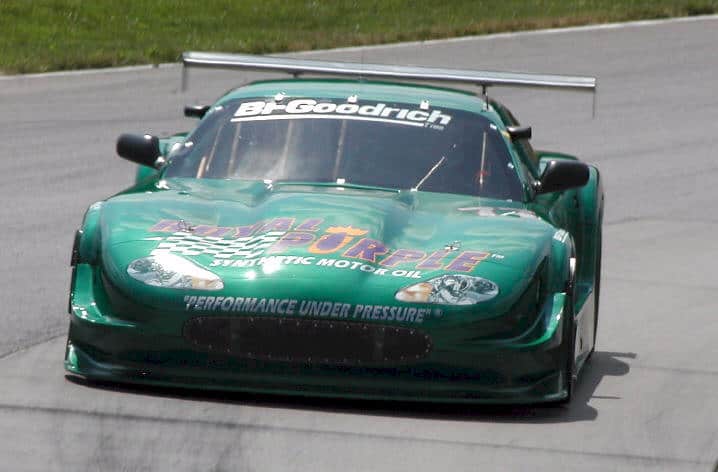 About Royal Purple: Royal Purple's synthetic oils make the very best lubricants possible using the best available technology. Royal Purple's proprietary ingredients and revolutionary Synerlec technology are the force behind Royal Purple Motorsports exceptional performances.  This enable engines to produce more horsepower and torque with less wear over much greater periods of time.  This has resulted in lubricants that are far superior.  Fix Motorsports has been using Royal Purple exclusively for the last two years.

Please support our sponsors: Classic Tube; Royal Purple Synthetic Oils; Mother Waxes, Polishes and Cleaners; Kimpton Hotels; Competition Life Insurance and East Side Mario's American-Italian Eatery. Additional technical and product support for Fix Motorsports Racing comes from Mechanix Wear, Wix Filters and Zone Perfect Nutrition.
The next race is the Marconi Grand Prix of Cleveland on July 13, to be aired on CBS.