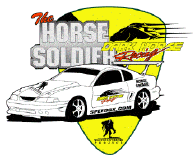 2005 marks the start of a very exciting project for Dark Horse Racing, Inc. and we would like invite your participation. Over the course of the year, we will be building a SN95 Mustang for competition in the American V8 Supercar Series. Until The Sn95 Mustang is complete we will race our 71 Mach 1 Mustang in support of this project. What makes this project unique is that it will be built and raced to advance the cause of the Wounded Warrior Project.
The Wounded Warrior Project (www.woundedwarriorproject.org) was founded on the principle that veterans are our nation's greatest citizens. The Project seeks to assist those men and women of our armed forces who have been severely injured during the conflicts in Iraq, Afghanistan, and other hot spots around the world. Many of the injuries are traumatic amputations, gunshot wounds, burns and blast injuries that will retire these brave warriors from military service. These wounded soldiers will return to civilian life minus one or more limbs, or with serious wounds or disfiguring scars, and will face greater challenges today obtaining assistance and finding opportunities that would enable them to provide for themselves and their families. The Wounded Warrior Project was founded to give a voice to this new generation of veterans facing unique issues and problems. The Project fills the vital need for a coordinated, united effort to enable wounded veterans to aid and assist each other and to readjust to civilian life.
We have already enlisted assistance for this project from many areas.  The "Horse Soldier" Mustang, as the program has been named, will be assembled from the ground up each month in the pages of Mustang Enthusiast Magazine. Each partner in the project will get both written and photographic brand positioning within these articles as well as on the car for the full racing season once the car is completed.
Av8ss Drivers helping our Vets
Barry Kline of Nutandbolt.com with Winzer Corporation present Assistant Director Brion Gluck a Check for $2500.00, for the Wounded Warrior Project
These Mustangs will be raced in the American V8 Supercar Series (AV8SS). The cars will be painted in the wounded warrior livery and will have logos of all participating manufacturers.  The cars will also be taken to veterans and military hospitals to "meet and greet" the wounded warriors recovering from injures inflicted in the war on terrorism.  Wounded Warrior personnel and families have been given free admission and paddock passes to all AV8SS events. I am deeply committed to this project as a former member of the 1st Cavalry Division, a medic and a disabled Veteran. Maximizing the credibility of this project is that it will be built and raced by a disabled veteran for the benefit of disabled veterans. The founder of AV8SS is also a Veteran.
Brion Gluck