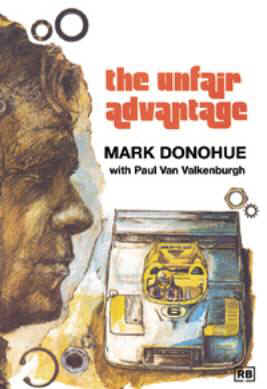 The Unfair Advantage, 2nd
Edition
By Mark Donohue
With Paul Van Valkenburg
$49.95 hardcover ISBN 0-8376-007
$24.95 softcover ISBN 0-8376-0069-3
By Brion Gluck
For Mustangs Illustrated
In 1974, Mark Donohue took a year off at the pinnacle of his driving career to write "The Unfair Advantage", a gritty, insider's look at the world of sports car racing. The book tracks his rise from amateur races in Mustangs and Corvettes to winning the Indy 500 in Penske's McLaren M16.
A little over a year later, Donohue was dead, killed by injuries sustained during an accident during race day warm up at the 1975 Austrian Grand Prix. Now, 25 years after it's original publication, Donahue's sons and Bentley Publishing have created a new and improved version of this work by perhaps the greatest American road-racer of all time.
The new edition adds a number of photos and historical information to the original text to produce a vivid view of what now seems in retrospect to be a golden age of motorsports. This is not a tale of fame and fortune; instead it describes what sports car racing and development is really like at the broken knuckle and greasy fingernail level. For true lovers of racing, this kind of detail is infinitely more interesting than tales of scandalous off-track adventures.
Donohue in "The Unfair Advantage" is a Chuck Yeager-esque character, able to drive anything well, with the engineering skills and viewpoint of a test pilot.  His ability to set up a car was legendary, and this insight shows throughout the book. Fellow driver Sam Posey said Donohue "… was an experimenter. Constantly. Usually there was something new on board or something that he was thinking about. I think he was among the first to use the lockers, and he was certainly among the first to use a lot of caster. He understood the friction circle and all of that before anybody else was putting it into play."
Mustangs, Cobras and GT40s played a major role in Donohue's career, making him an important part of Ford's racing history. A ride in Jack Griffin's Cobra resulted in his first national victory at VIR (Virginia International Raceway early in 1964. By 1965 Donohue had class championships in both a Formula C Lotus 20 and a B Production Shelby GT350.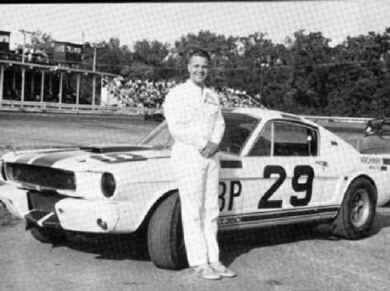 "The Mustang was a transition between amateur and professional for me. Not only that, but it really taught me a lot about chassis setup and team organization and sponsorship," Donohue recounts in the book.  "It all started when Dave Lawton called me about halfway through 1965, and we started talking about the new SCCA sedan racing series. Dave was always watching me and analyzing my driving, and now he was about to influence my professional career. He told me that if I wanted to establish my name in racing I'd have to get in on the ground floor of this new series, and we both knew I was going to have to get a ride. He felt that the Mustang was going to become a very important car in racing. It was going to be a popular series and there would be lots of advertising connected with the factory."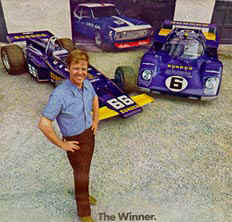 Ford struck a deal for the 1966 season with Donohue, so he juggled the Lola T70, Ford GT40 and Mustang in USRRC, FIA and SCCA events, resulting in a 3rd at Daytona and a 2nd at Sebring.
Donohue is quick to attribute much of his racing success to many "unfair advantages" he had over his competitors, such as more powerful engines, better tires and finding improvements not covered in the rulebooks, but his greatest advantage was his own approach and devotion to developing and improving the cars he raced.
"The Unfair Advantage" is a glimpse of a more grassroots and raw period of American road racing, where Can-Am and Trans-Am were king. The book also features profiles of some of the people Donahue came in contact with, including Mario Andretti, Jacky Ickx, Jackie Stewart, Peter Reveson, Roger Penske, and many others who are legends in their own right.
Over a quarter century after his death, Donohue remains an important figure in American racing history, and "The Unfair Advantage" remains an excellent way to learn about or remember his achievements and contributions. Racers today can still learn a lot from him, and that may be his greatest contribution of all.