The American V-8 Supercar Series (AV8SS) was in action the weekend of April 16th and 17th on the "roval" at beautiful Nashville Superspeedway. The 2nd event of the six race schedule proved even more exciting than the first event at CMP.In an interesting twist, the racing was comprised of two 30 minute sprint races punctuated by a 20 minute "intermission" in which the cars were brought to pit lane, allowed to refuel and change tires if necessary. Cars were not allowed behind the wall for major changes. This proved to be fun for the drivers and spectators alike.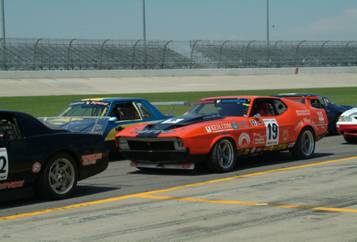 The first race saw unlimited pole sitter Lester Lesneski rocket off into the distance never to be headed. As was the case at CMP, the action was with the regular AV8 racers. AV8 pole sitter Scott Whitehead was relegated to 2nd with a great start from 3rd starting Pete Johns, followed by outside pole sitter Brian Tone. These three would run literally nose to tail until Johns overcooked the back chicane slowing Whitehead and enabling Tone to get by both of them. Whitehead and Tone would then wage a furious battle with Johns and a hard charging Barry Kline coming quickly through the field. In the end it would be Whitehead, Tone, Johns,  Kline, Greg Anderson, Mike Schlickenmeyer, Gene Boccabella, Brion Gluck and rookie Mike Kryder. In unlimited, the finish would show Lesneski, followed by David Morrison and new to the series racer Ed McClain in his Corvette Z-06.
After an uneventful but welcomed 20 minute intermission, the racers took the track in the original qualifying order for the 2nd 30 minute race segment.
Though no one believed the racing could get any better, that is exactly what happened in the AV8 class. While Lesneski had once again done his disappearing act, Whithead, Tone and Johns were running so fast that they were able to put in lap times with David Morrison's unlimited machine. This provided a four way battle for 2nd overall and first in AV8. These four swapped positions no less than 17 times between them during the race. As a credit to all the racers, they ran clean with only minor bumps within inches of each other for the entire race distance. As a written recap would hardly do the action justice, suffice it to say everyone in attendance was on their feet during this incredible display of driving. At the checkered flag it would be Johns followed by Tone, Whitehead (by .023 sec.), Schlickenmeyer, Anderson, Boccabela, Kline, Gluck, Krider. In unlimited it would be Lesneski, Morrison and McClain.
One could hardly ask for more from a race weekend; close competition, perfect weather and a spectacular venue with an exceptional track staff. AV8SS would like to thank it's sponsors, Nitto tire, Racetech seats, Cobalt Friction Brakes, Griggs Racing, Kenny Brown Industries, Capitol Motorcars, Racer Wholesale, Dark Horse racing, Performance Automotive, Mustangs Unlimited, Amos Publishing and Steeda.