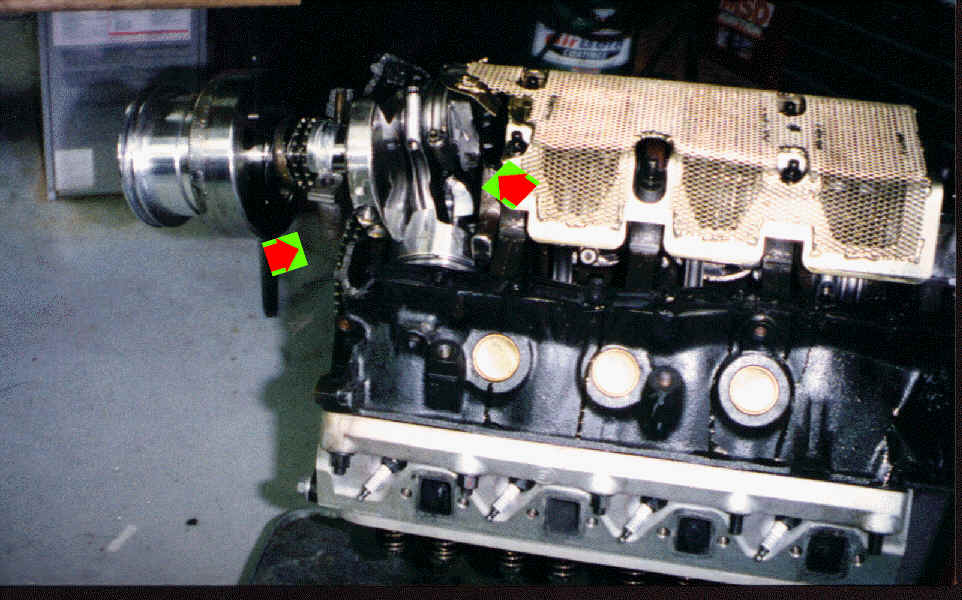 The arrows point to the broken crank and bent rods, it all happened Leaving turn 7 at Road Atlanta on the warm up lap.
I was turning about 4000 rpm in 3rd gear when the crank let lose. Water temp 200 deg F, oil Temp 205 deg F , total timing 36 degs. Motor had a total of Apox. 20 Laps
Don't worry fellow racers Mark at Panhandle Performance in Lynn Haven FLA. is ridding in like the cavalry. The new Bullet will be all that a road racer could want. We will bring you photos and the dyno report soon.
 "Competition Engines and short blocks are built to order! From mild to wild, only the best parts are used with your engine combination in mind (no budget TRW parts here). We can make your next engine perform the way it SHOULD, not the way it should HAVE!"-Mark and Adam
Canfield aluminum Cylinder Heads

BLOCK FORD

| | |
| --- | --- |
| Intake Valve Size | |
| Exhaust Valve Size | |
| Intake Port Vol. | |
| Chamber Volume | |