TEAM DARK HORSE TAKES SPRINT CLASS WIN, ENDURANCE RACE 8th PLACE AT SUMMIT POINT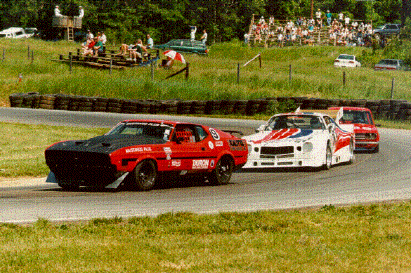 SUMMIT POINT, W. Va. — Team Dark Horse Racing's Brian Gluck continued his winning streak
here Oct. 3-4, taking a sprint race class victory and eighth place in the endurance race at the SportVintage Racing Association (SVRA) Blue and Gray Challenge.
In cold and overcast weather Saturday, Oct. 3, Gluck drove his modified 1971 Mustang Mach 1 to eighth overall in the 56-car field for the endurance race. He lapped the 2-mile circuit with an average speed of 74.9 mph and a best lap time of 1:34. New York's  Ken Mannella took first place in a 1963 Chevrolet Corvette.
The weather turned worse for Sunday, Oct. 4's sprint race, with misty wet conditions and the track surface "like glass", according to Gluck. A number of drivers refused to compete in the sprint race after sliding during the morning warmup session. Gluck finished third overall and first in class 10Din a field of 21 for the sprint, which was won overall by a heavily-modified Fiat X-1/9.
Sunday's events also included a re-enactment of the Civil War battle of Antietam, with the boom of vintage rifles and cannons competing with the roar of vintage race car engines throughout the day.
Team Dark Horse is sponsored by Mustangs Plus, Total Control Performance Products, Jet Stream Aviation Products and Comp Cams.
---