MUSTANG RACING HISTORY
The iconic status of the Ford Mustang can be attributed to several major factors, including its lasting hallmarks of great looks and performance combined with affordability – as well as it's starring roles on the big screen. But, for enthusiasts who have nurtured this image, the legend of Mustang began on the racetrack and grew quickly over four decades of dominating performances.
The new 440-horsepower Mustang GT-R concept is a bold expression of this glorious racing success, with ties to some of Ford's most famous racing moments, and fittingly arrives as tens of thousands of Mustang fans prepare to gather (at a racetrack of course) to honor the legend's 40th anniversary.
Humble Beginnings
In the early sixties, Ford and the other American automakers were "officially" out of racing, chafing under the self-imposed Automobile Manufacturers Association ban that had begun in 1957. Seeking to boost its image, Ford would ultimately create a formidable racing program in the 1960s that is still thriving today.
That original program included the A.C. Cobra, the GT-40, the 427 and Boss 429 NASCAR and drag racing engines, the double overhead cam Ford Indy engine, the Ford-Cosworth DFV Formula One engine and production cars like the Mustang.
The name Mustang was suggested by executive stylist John Najjar because he was an aficionado of the P-51 Mustang fighter plane of World War II.
The wild-horse theme was adopted almost immediately. The familiar running-horse emblem was plainly visible at Watkins Glen, N.Y., in the fall of 1962. The crowds, on hand for the U.S. Grand Prix Formula One race, were treated to an exhibition of the Mustang I two-seat prototype driven by Dan Gurney.
A little more than a month after its April 17 introduction, Mustang was on the racetrack as a pace car leading the 1964 Indianapolis 500. Before the year was out, Mustang was a winner in competition, finishing first and second in class in the 1964 Tour de France international rally – an auspicious beginning.
One Quarter Mile at a Time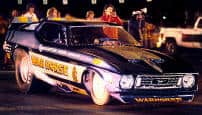 The first American assault came in drag racing, initially by individuals and dealer-sponsored teams. Racers squeezed 427 high-riser V-8s into their Mustangs, and the "horses" were off and racing.
By 1965, Ford was involved with cars competing in the National Hot Rod Association's Factory Experimental, or A/FX class, as the 427-cubic-inch single overhead cam V-8 made a potent powerplant in Holman & Moody's A/FX Mustangs.
Ten of these Mustangs were built, and five of them qualified in the Factory Stock Eliminator field at the '65 NHRA Winternationals. Bill Lawton drove his Tasca Ford Mustang A/FX to victory in the car's very first race.
Taming the Twisties
In 1965, Carroll Shelby, responding to Ford's challenge to build a winning road racing program, introduced the Mustang GT-350 – a stripped down Mustang 2+2 with modified suspension, shocks, steering, brakes and Ford 289-cubic-inch V-8s – for Sports Car Club of America competition.
Jerry Titus, Bob Johnson and Mark Donohue drove GT-350s to national titles in 1965, and the GT-350 went on to win SCCA B-Production national championships for three straight years.
1966 was the inaugural year for the SCCA Trans-Am series, and Mustangs found a new racing home. Jerry Titus, in a Shelby-prepared Mustang, won the season finale at Riverside. All told, Mustang racers won four of the seven series races and Ford won the manufacturers' championship.
In the 1967 Trans-Am series, Titus chalked up four more victories in a Shelby Mustang, won the drivers' title and Ford took a second straight manufacturers' championship. Mustang also won another SCCA B-Production road-racing title.
In 1968, while singer Wilson Pickett was asking Mustang Sally to "slow your Mustang down," Ford introduced the 428 Mustang Cobra Jet.
To performance enthusiasts, 1969 was dominated by the hottest Mustangs ever — 428 Mach 1, Boss 429 and Boss 302. Three modified examples of this fearsome threesome were taken to the Bonneville Salt Flats in search of speed records.
Driven by Mickey Thompson, Danny Ongais, Ray Brock and Bob Ottum, they collected 295 United States Auto Club-certified records, including a 24-hour run on a 10-mile course at an average speed of 157 miles an hour.
Ford backed two Trans-Am teams in 1969: Carroll Shelby fielded drivers Peter Revson and Horst Kwech, while Bud Moore signed on Parnelli Jones and George Follmer. The teams combined for four victories and were tasting victory at mid-season before experiencing a string of accidents.
In 1970, Bud Moore's team raced against one of the most competitive Trans-Am fields of all time with six factory teams. Jones and Follmer fulfilled the promise of a year earlier by winning six races and the manufacturers' championship as Jones took the drivers' title.
Performance Pause?
Budget cuts, the oil embargoes and economic recession all contributed to the end of factory backing for Mustang's racing career in the 1970s — and to the end of the so-called "muscle-car era."
Of course, it didn't mean that Mustangs stopped racing.
Mustang was a favorite of short-track stock car racers through most of the seventies. In 1972, Dick Trickle raced a Mustang to a national record of 67 short track feature wins in one season.
And in drag racing, drivers like Connie Kalitta, Shirley Muldowney and Don Nicholson kept Mustang in the winner's circle.
Pro Stock gained popularity, and by 1975 a now-familiar name was in the record books. Bob Glidden drove a Ford Pinto to his first Pro Stock championship in '74, and then switched to Mustang for '75, winning four national events and his second NHRA championship — Mustang's first Pro Stock title.
Factory Back
In Ford's resurgent racing program of the eighties, Mustang figured prominently from the beginning in 1981. In International MotorSports Association (IMSA) GT racing, the turbocharged Miller Mustang, driven by Klaus Ludwig, came within a 10th of a second of winning its first race over the dominant Porsche 935 Turbos. Ludwig then made the threat a reality with back-to-back victories at Brainerd and Sears Point.
Tom Gloy put a Mustang back in a Trans-Am winner's circle for the first time in a decade when he won the 1981 season finale at Sears Point.
And, in SCCA road racing, Mustang became the first domestic car ever to win the Showroom Stock ,a national championship, when Ron Smaldone drove his turbo Mustang to victory at Road Atlanta.
By 1984, Ford Division had staked out the IMSA GTO series as Mustang turf. Enter Jack Roush, who was to the Mustang in the eighties what Carroll Shelby was in the sixties.
A Roush-prepared Mustang, driven by Willy T. Ribbs and Wally Dallenbach Jr., won GTO class in the three-hour IMSA '84 season finale at Daytona. It was the beginning of a Mustang reign as king of GTO.
The following February, Dallenbach, John Jones, and Doc Bundy won GTO class at the Daytona 24 Hours – the first of three consecutive Mustang victories in the season-opening marathon.
John Jones went on to win the'85 GTO drivers' championship, while nine Mustang victories brought Ford its first road-racing manufacturers' championship since 1970. Three of those wins belonged to Lynn St. James, the first ever for a woman in the series.
The Roush Mustangs carried on the winning tradition in 1986 with eight more GTO wins and another manufacturers' title for Ford. Scott Pruett scored seven of those wins and claimed the GTO drivers' championship, as well as the GT Endurance Championship – with more than a little help from Bruce Jenner.
In drag racing, Rickie Smith drove his Motorcraft Mustang to the semifinals or better at all 11 races on the International Hot Rod Association schedule, and took the IHRA Pro Stock world championship.
The 1987 Daytona 24 hours and one other victory were Mustang's GTO total for the year. However, Saleen Autosport Mustangs, campaigned by Steve Saleen and Rick Titus, won the SCCA Escort Endurance SSGT championship.
Mustang Turns 25, Steers Wins
In its silver anniversary year, Mustang returned to Trans-Am as rookie driver Dorsey Schroeder drove Ford's "anniversary car," numbered 25, while Lynn St. James returned to a Mustang. Schroeder won his very first race on his way to six season wins, a drivers' championship and a leading role in Ford's first Trans-Am manufacturers' title since 1970.
In 1997, Tommy Kendall carried on the Trans-Am tradition by piloting his Roush-prepared Mustang to a record 11 consecutive wins as he clinched a third straight driver's championship.
John Force, perhaps the most dominant racer of a single race series, broke his own NHRA drag racing record by winning his 12th national crown in his Ford Mustang Funny Car in 2002.
While Force continues to dominate the straight-line arena, Roush Racing and Saleen Racing are the most prominent privateers who carry the Mustang road-racing torch into the new century.
The new Mustang GT-R concept meshes this four decades of racing success with the all-new 2005 Mustang's magic and world-class performance to send one clear message: Mustang will continue to dominate the racing scene.
Ford Motor Company, headquartered in Dearborn, Michigan, is the world's second largest automaker, with approximately 335,000 employees in 200 markets on six continents. Its automotive brands include Aston Martin, Ford, Jaguar, Land Rover, Lincoln, Mazda, Mercury and Volvo. Its automotive-related services include Ford Credit, Quality Care and Hertz. Ford Motor Company observed its 100th anniversary on June 16, 2003.
Reprint from www. Gotmustang.com