DHR's 71 Mach 1 Driver Brion Gluck Thunders to 3rd Place At AV8SS Season Opener
DHR's 67 Mustang Driver Jack Flinn battle Gene Boccabella's 1969 Boss Mustang,
More photos to be posted soon….
Sebring,Fl.——The American V-8 Supercar Series visited the historic Sebring International Raceway the weekend of April 22nd and 23rd to put on the AV8 race sponsored by Jet Services of Ft. Pierce, Fl.. Hosted by the SVT Owners group out of Tampa Florida, it was the furthest swing south for the two year old sedan racing series. Gauging from the response from the the 110 or so students and instructors in attendance for the SVTOA driving school, it appears the area is starved for wheel to wheel sedan road racing action. using this year's event as an indicator, 2007 should see tremendous local participation.

Both Saturday and Sunday dawned with perfect racing conditions. With 3 practice sessions and a single qualifying session on Saturday, racers had ample time to become familiar with the 3.7 miles of challenges Sebring presents. Among the AV8SS legal cars were 3 "promoter's option" cars. While not AV8 legal, these cars would nevertheless add to the show. At the end of qualifying it would be Dan Schlickenmeyer in his Griggs Racing sponsored 1993 Mustang on the AV8SS pole with a time of 2:28.36. He was followed by Joe Johnson in his 2000 Mustang Cobra "R". While starting from the rear of the grid for not being AV8 legal, Pete Johns in his Performance Automotive Firebird would set the overall pace with a 2:26.8. Joining him at the rear of the field would be Gary Henkel in his Kenny Brown sponsored "promoter's option" Mustang qualifying with a time of 2:32.5. The secenario was set with 10 AV8 legal cars leading the field and "unlimited" cars forced to work their way to the front to challenge for the overall win.
After two Sunday morning warm-up sessions, the grid was formed for a 50 minute race starting at 11 A.M. Abandoning the usual AV8 format of two shorter 30 minute races with an intermission for one longer race would certainly be a challenge for cars and drivers alike. Once the Saleen supercharged pace car cleared the track, the action became furious in short order. The first 4 laps saw Schlickenmeyer and Wayne Manor in Joe Johnson's 2000 Cobra run door to door and swapping the lead several times. All the while the unlimited duo of Johns and Henkel were tearing through the field in their higher horsepower machines. They first picked off Gene Boccabella guest driving a 1969 Boss Mustang, followed by Jack Flinn in his 1965 Mustang, and Mike Schlickenmeyer in his 1979 Pontiac Trans Am. Between them and the leaders, Brion Gluck and rookie Shawn Jewett were waging a battle of their own with Jewett eventually pulling away to pursue the leaders. Schlcikenmeyer in his 1993 Mustang eventually dropped Manor but by then it was too late.
Johns and Henkel were there. This set off a titanic 3 way struggle at the front with the 3 racers trading positions and fastest laps. Having used their cars to get to the front, Johns and Henkel were probably on equal footing with Schlickenmeyer.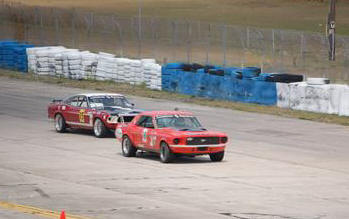 The final 30 miles of racing had all the spectators on their feet. There were no fewer than 22 lead changes in those last nine laps! Johns and Schlickemeyer were eventually able to gap Henkel due to traffic. Now there were two and what a battle it was! The final 2 laps saw the racers separated by no more that a car length with Johns having a straightaway adavantage and Schlickenmeyer a cornering and braking advantage. The white flag lap showed Johns by a car length and Henkel now closing on the front duo after clearing traffic. Johns was able to use his horsepower down the long back straight to pull out a 4 car length advantage. Schlickenmeyer closed in the final turn but came up just short at the checkered flag by one car length. Margin of victory would be .12 seconds. Henkel would finish third followed by Gluck, Jewett, Boccabella, Flinn, Manor, Mike Schlickenmeyer. In the end there was no one in attendance still sitting. It was the closest finish in AV8SS history and a great precursor of events to come at this grand historic race track.
Special thanks go out to Gene Pavlisc and his SVT group for being such great hosts, Saleen for providing the pace car and to our sponsors Nitto tire, Action Grephics, Griggs racing, Cobalt Brakes and Racetech Seats.
Above all, thanks to our event sponsor, Jet Services of Ft. Pierce, Fl. for their generous and timely support of the event.
The next event will be at Autobahn Raceway outside of Jolliet, Il. May 20th,21st.