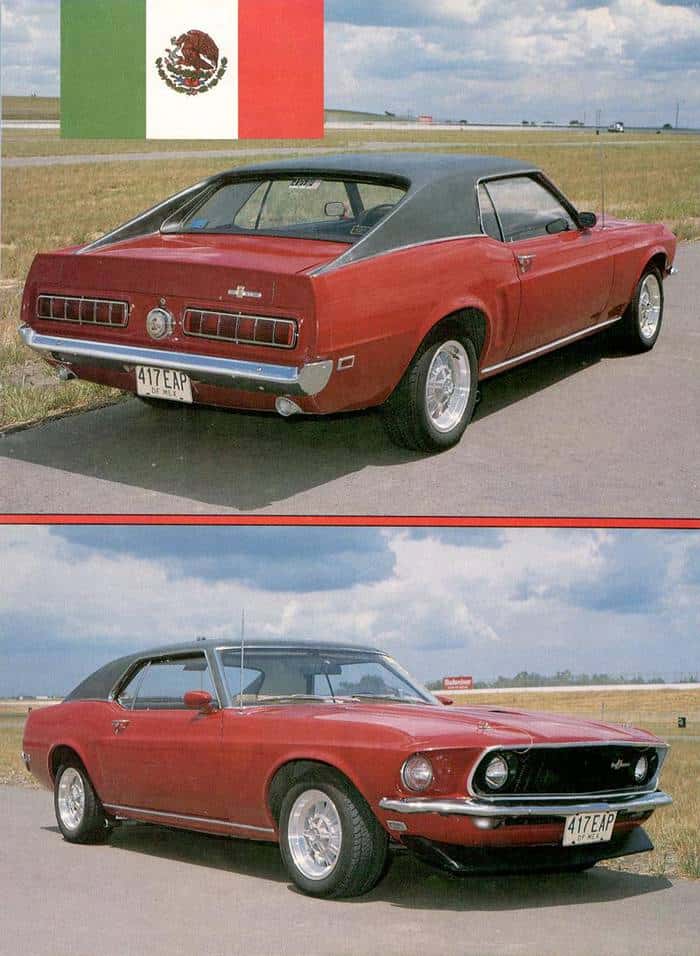 Nothing runs faster than a scared Mexican Bandito!
By Bob McClurg
Photography: Bob McClurg and the Eduardo Velazquez Scrapbook
Reprinted from the February 1991 Issue of Mustang Illustrated
There are times when life takes an unexpected turn. Take for example MI's recent trip to Mexico City. Last September we paid a visit to the oldest city in the Western Hemisphere with the sole intent of photographing a series of stories on the Mustangs of Mexico. As you will no doubt see by the accompanying pages, enthusiasm for the classic Mustang is enormous South of the border. It is estimated, by official Mustang de Mexico Club figures that there are over 6,000 Mustangs within Mexico City alone!
Getting back to those unexpected turns of events which I earlier spoke about. It's Saturday morning, September 30th, and I find myself taking pictures in front of the Partido Revoloucionario Institutional (P.R.I.) headquarters in the province of Naucalpan, the largest province (county) in all of Mexico. Although I may have looked like a refugee from a "Gringo" tour bus, I was standing there for a reason. At the request of P.R.I. "Director de Publicidad" Eduardo Velazquez, I'm photographing a man many say is the next "John Kennedy" of Mexico. His name is Mario Ruiz De Chavez, and he is the "Candidate a la Presidencia Municipal," or candidate for governor of Naucalpan. Mexican politics is considerably different than that of the U.S. These people really get worked up over their favorite candidates, and in no time at all, I find myself getting swept sway into a waiting campaign bus destined for one of the outer regions of Mexico City.
Right about now you may be asking yourself if there is any correlation between Mexican politics end classic Mustangs. The answer is yes! The "Eduardo Velazquez" previously mentioned is the very same Eduardo Velazquez who more than twenty years ago went into partnership with a tall, lanky, Texan named Carroll Shelby to produce a car called the "Shelby de Mexico," or commonly known to us in the United States, the "Mexican Shelby!"
Eduardo Velazquez Chavez grew up in Mexico City and was the son of a "liberal" family, who at the turn of the century was deeply involved in Mexican politics. He cites his grandfather (who was involved in the Mexican revolution) and his father (who was a banker and a Mexican diplomat as being the inspirational forces in his life. Velazquez attended a German language private school as a youngster because his family felt such a background promoted good discipline. As a teenager he attended the University of Mexico and studied in Europe.
Although the first production Shelby de Mexico's weren't built until 1967, this car (a 1965 coupe prepared by Lew Spencer and Carroll Shelby's High Performance Motors) can technically be considered to be the first Shelby de Mexico. This car was driven to a class win at the Mexico Toluca Road Race by driver Juan Emilio Proal.
In 1960, Eduardo went to work in the law offices of one of the best known lawyers in Mexico City. After five years in practice, Velazquez became involved in the successful litigation of an extremely controversial and long running corporate dispute. With the proceeds of the sizable commission he earned, Eduardo looked around for a business enterprise of some type to invest in.
Having been a car enthusiast most of his life Eduardo focused his attentions in that direction. He ran into a couple of friends who owned a sunroof conversion company which specialized in converting Mexican Valiants for Chrysler de Mexico. Unfortunately, the projected 500 units destined for conversion fell way too short due to poor sales, and the company found themselves financially taxed and sitting on a huge inventory. In 1964, Eduardo purchased half interest, hung up his business suit and proceeded to turn things around.
After a year of working night and day, Velazquez and his partners decided they needed other lines to increase sales. At the time the Volkswagen "Bug" was (and still is) the most popular car in Mexico. Velazquez contacted Californian Joe Vittone, owner of European Motor Products Incorporated (EMPI), and arranged for the exclusive distributorship of EMPI parts in all of Mexico. Simultaneously, the company also approached another big name in the automotive aftermarket, Shelby American.
The company started selling Cobra parts in 1965. Velazquez initially dealt with Timothy H. Foraker, the Parts Manager of Shelby American at the Time. Since the Mustang had just been introduced in the States the year before and it was then being assembled in Mexico City, Cobra High Performance parts sales went well. Eduardo decided to become more involved with the Cobra end of the business, and purchased a red 1965 Mustang GT coupe with the intention of using it for racing and sales promotion. This first car, driven by Juan Emilio Proal, won the Mexican Toluca Road Races in 1966. He sent the car up to Lew Spencer's High Performance Motors in Los Angeles where the car was equipped with practically every part Shelby produced. Simultaneously, Velazquez also applied for the exclusive distributorship of Cobra parts in all of Mexico.
Timothy Foraker arranged for a meeting with Carroll Shelby, and it's a meeting Eduardo remembers very well. "When I was shown into Carroll's office I was taken aback by the earthiness, simplicity and the intelligence of Shelby. We became friends immediately and we had a long conversation. He was interested in knowing the way we distributed to the Ford dealers in Mexico our terms, shipping policies, the most accepted products, and even how we approached the parts managers, to convince them of the value of our products. Carroll gave me a lot advice to that end, and invited me to dinner to his house that evening" (Velazquez would later relate that they would load up the company's VW Micro-Bus with Cobra parts, and drive all around Mexico selling to Ford Dealers directly out of the back of the bus. Ed.)
| | |
| --- | --- |
| RIGHT — The arrival of the first production prototype (1967) was an occasion celebrated at the Ford Dealer's Convention held in Guanajuato, Mexico. Pictured left to right are Ford dealers Pablo Bush, Marceal Llano, President of Ford Mexico Sev Bass, Ford Dealer Hipolito Gerard and Velazquez. This car (complete with Terlingua Racing decals) was the sister car to the infamous "Little Red." | |
| Friend and business partner Carroll Shelby paid frequent visits to Mexico City. Shown in this 1966 photograph taken at the La Morena Dinner Club (where live bullfights were conducted!) was left to right: Shelby International S.A. Sales Manager Manual Ortiz, Laura Alamen, Shelby and Manuella and Eduardo Velazquez. | In 1967, Shelby de Mexico exhibited two street version 1967 Shelby de Mexico's at the Guadalajara Road Races where the cars were well-received. Eduardo Velazquez can be seen kneeling at the far right. |
Sales Manager Manual Ortiz and Velazquez pose in front of the first Trans Am "R" model Shelby de Mexico produced. This car was driven by two-time Mexican rallye champion Carlos "C.S." Sales.

LEFT — Shelby de Mexico advertised their products extensively. This ad was taken from the "Mexico 24 Hour Internacional" program. However, note that the photograph of the Shelby GT 500 used is an actual American version instead!
The 1969 Shelby de Mexicos featured a number of distinctions. Three different hoods were available. There was the standard GT hood, the scooped hood (like that shown on Carlos Henkel's car in the accompanying article) and the shark gill hood, shown.

Shown is a glimpse of the Shelby International S.A. factory and a 1969 Shelby de Mexico. The business was located at Nuevo Leon, Mexico.

Dinner that evening at Shelby's home was equally informative Velazquez was favorably impressed with Shelby's down home hospitality, and his life style in particular. This initial meeting would be one of many over the years that would cement a lifelong friendship between the two men.

In 1967, Shelby International, S.A. was incorporated with Velazquez and Carroll Shelby as partners. Acting as a catalyst was Siffren "Sev" Bass, longtime friend of Carroll Shelby's and the newly appointed President of Ford of Mexico. Sev Bass' part in this tale was to arrange a delivery schedule with the Ford factory in Mexico City, link the newly-formed company up to the Ford of Mexico dealer network and locate funding for the project. Between the three, the Shelby de Mexico undertaking was a "marriage" made in heaven!

Of particular interest is the fact that while relatively few (reputedly 47) American-built Shelby Mustang GT-350 coupes were produced, all of the Shelby de Mexico's were coupes since that was the only body style produced in Mexico, making these cars quite distinctive in appearance. Additionally, due to Mexico's quest for increased labor and employment, Mexican automobile manufacturers were required by law to employ 45% Mexican-manufactured parts. Shelby de Mexicos came equipped with the infamous "Mexican 302" engine forged in Hermosillo, Mexico. Upholstery was different than U.S.-built Mustangs and the rear axles were manufactured by Motorola/Dana Corporation of Mexico rather than Ford. Even the tires were manufactured domestically using special molds shipped in from Akron (at Shelby's request) by Goodyear Tire.

When the first Shelby de Mexico was debuted in 1967, it bore a strange resemblance to another Shelby creation known as "Little Red." In truth that first Shelby de Mexico was constructed in L.A. at Shelby American as the Mexican export prototype, and was built right alongside that now long-departed, historical red coupe.
The production 1967 Shelby de Mexicos were assembled from the GT version of the Mustang coupe. They featured front disc brakes and much heavier suspension due to the fact that there is such a varying degree of terrain in that country. These cars featured the distinctive Shelby 10-spoke 15-inch GT-350 aluminum wheels, Shelby "Tri-Y" headers, Ford dual-point ignition, a Cobra aluminum intake manifold, a Holley 715 cfm carburetor, Cobra valve covers, Cobra Hi-Po air cleaner, Shelby GT-350 emblems, Shelby GT-350 tape graphics, Shelby wood rim steering wheel, Shelby tachometer and the distinctive sequential taillight bezels which characterized the U.S-built GT-350s and 500s.
Since the notchback body style could not use the same fiberglass body parts installed on their American cousins, and the import of fiberglass body parts like hoods, deck lids, and quarter panel extensions was not allowed into Mexico, Shelby de Mexico had to manufacture its own body parts. Interestingly, the 169 cars built in 1967, and the 203 units built in 1968 resembled "California Specials" in appearance.
During 1967 and 1968 the Shelby de Mexico's stormed the race tracks. Team driver Carlos "C.S." Sales won several road race titles at places like Guadalajara, Leon, Acapulco and Vera Cruz with a specially prepared race version featuring a 350 horsepower Mexican block 289 assembled by Chief engineer Leopold Sales.
In 1967, Shelby de Mexico S.A. also campaigned another GT-350 notchback at the drags. This car featured a fiberglass front end, hood, deck lid and quarter panels with a Paxton supercharged 390-horse 302 buttoned together by Shelby American. Driven-by Enrique Estrop, the car was virtually unbeatable.
By 1969, Shelby de Mexico had enough racing experience to build a faster and lighter race car. One of the first 1969 Mustang coupes to roll off the Mexico City assembly line became the donor car. Virtually every unnecessary part was taken out of the car. The entire front end, hood, doors, rear quarter panels, and deck lid was made of lightweight fiberglass. The roll bar was designed as an integral link between front and rear subframe. The rear of the roll bar actually extended past the rear of the roofline resulting in the creation of the production Shelby de Mexicos distinctive rear roof extensions. The brakes had a special cooling duct, and the entire engine compartment was ducted to allow cool air to enter, and hot air to escape.
Powering this "Libre" class racer was a very special 377 cubic-inch engine which was acquired with special assistance from Carroll himself. On the outside, the block looked like any other 302 engine, but the block was considerably stronger and lighter. (Velazquez still has this engine in his collection, Ed.) Equipped with a set of aluminum Gurney-Westlake heads with Weber carburetors. Useable horsepower was around 450!
With Juan Emilio "Oso" Proal driving, and Chief mechanic and engineer Alfredo "The Wizard" Tame Badia, (Tame has since gone on to field one of the most successful Nissan-sponsored sedans, and Marlboro-sponsored, F-2 teams in all of Mexico. Ed.) This car won the Mexico City Grand Prix, the Mexico City-Cuernavaca Race, the Valle de Bravo-Bosencheve Road Race, the Leon Guanajuato Race, the Guadalajara races and first place at the Acapulco Road Race. This car was perhaps the best Shelby de Mexico racer ever constructed.
Eduardo Velazquez and his racing associates always practiced "good politics" everywhere they raced. The name of the local Shelby de Mexico dealer in whatever particular province they happened to be competing was always painted on the rear roof pillar of the race car. It helped sell a lot of cars!
The year 1969 proved to be Shelby de Mexico's best production year ever. The new 1969 body with its rear roof extensions, vinyl top, sequential taillights and distinctive Mach-1 styling was quite a seller. In total 306 of these cars were produced, which is probably why the only surviving Mexican Shelby's located so far (all 11 of them!) have been 1969s.
Several other distinctions with the '69s were apparent. As sales fluctuated, Shelby de Mexico's could be ordered with certain features deleted. Shown
is this example of a 1969 recently found in the province of Naucalpan. It features standard taillights!
This message written across the back of Stacey Pendergrass' Texas-based '69 was the motto of Shelby de Mexico. "Nothing runs faster than a Scared Mexican Bandito." A true statement whether twenty one years ago or today!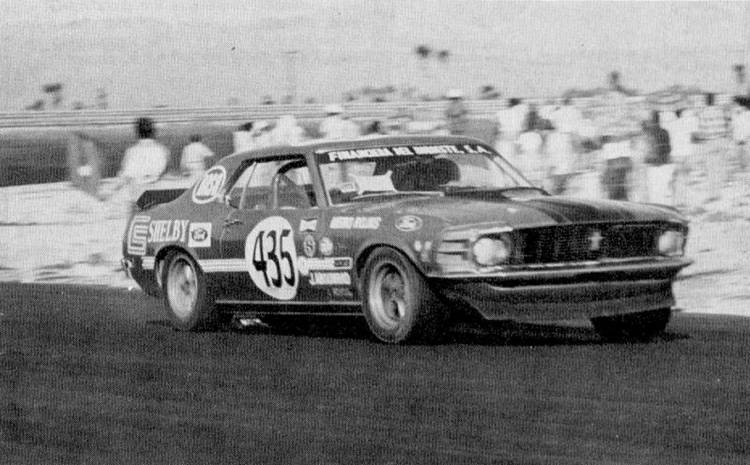 Shown in competition at Monterey, Mexico was the 1970 351 Shelby de Mexico driven by Memo Rojas. Memo and his mechanic would drive the car to the races, install race tires, tune it, race, and then drive back home again!
One of the last Shelby de Mexico's produced was this "GT-351" 1972 Mustang coupe. Very little if anything on the car was actual Shelby though. The car was mostly stock featuring an assortment of Superior Industries aftermarket parts.

| | |
| --- | --- |
| ABOVE — Currently there are five, 1969 Shelby de Mexico's residing in the U.S. Shown is Northern Californian John Wagner's silver '69 (note the stock GT hood) and Indiana resident Steve Ooley's turquoise model (shown with Velazquez) which features the scooped-type hood. | Today Eduardo Velazquez is a successful building supply contractor and is involved in politics. However, he hasn't turned his back on his "roots", as he is currently restoring his 1969 "Libre" class Shelby de Mexico racer for vintage competition. |

The year 1969 was also significant in two other respects. For one it would actually be the last official year of any significant production run; and two the year 1969 signified a change in company sales policy. As Shelby de Mexico sales either increased, or decreased during the fiscal year, prospective buyers could individually order various. Options according to affordability.

This explains why some 1969 models (like the one recently located while on our trip to Mexico City) came fully loaded, and others came with stock Ford items like regular taillights, and front drum brakes. By 1970, Shelby International, S.A. was diversifying its product line. Since Carroll Shelby had sold off his interest in the cars which bore his name to Ford, the first oil crunch was right around the corner, and Sev Bass had retired from Ford of Mexico due to illness, Eduardo Velazquez could see the handwriting on the wall. "Diversification" best describes Shelby International S.A.'s activities that year. The company built a "Shelby-Maverick," a "Continental LTD" luxury car, and Ford LTD limousines in order to fulfill their production contracts with the Ford of Mexico factory.

However, out on the race track, Shelby de Mexicos still kept winning races. Along with the 1969 "Libre" racer, a 351-powered 1970 Mustang was added, and that car (driven by Guillermo, "Memo" Rojas) was virtually unbeatable. Velazquez recently told us of a the story how Rojas, and his mechanic Jale Abounrad would drive the '70 to the races with wheels and race tires in the back seat. At the track, they would change them out, change the spark plugs, retune the car and go racing – usually with winning results. After the races, they would reverse the procedure, and drive back to Mexico City again!
The end for Shelby International S.A. came in 1974. In between came a few miniscule efforts like the 1972 Shelby de Mexico "GT-351;" which actually had very little to do with anything Shelby at all. The company kept selling the once extensive inventory of Shelby and Cobra high performance parts until the inventory was depleted. They also briefly specialized in converting 1971-73 Mustang coupes into fastbacks as well.
Today at age 50, Eduardo Velazquez operates the largest drywall building material company in Mexico called Grabber Mexicana. His success in business has also allowed him to pursue not only politics but his love of cars. Velazquez is currently restoring his infamous 1969 "Libre" road racer, complete with 450 horsepower Gurney-Westlake engine, and plans on campaigning it in vintage competition next year.
Eduardo has also become a sought after guest speaker on the Shelby club circuit, and has been extremely active in locating Shelby de Mexico's for interested American buyers. So in a sense, he is helping to perpetuate the legend he started. That in itself gives Eduardo Velazquez a tremendous amount of satisfaction! As they say, "There is nothing that runs faster than a scared Mexican Bandito" even if he is now twenty-one years older! MI