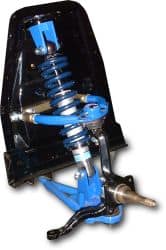 11) We recommend lowering the mounting location of the upper arm 1″ for an improved negative camber curve. A template is included in the kit to make this easier.
12) Once the holes have been drilled mount the new upper control arm in the lowered mounting location.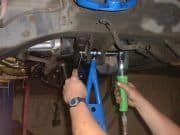 13) Next, bolt the lower control arm into place. For 1967 and later Mustangs a eccentric eliminator plate is included in the kit to keep the lower arm in alignment.
14) The new adjustable strut rod is then mounted to the frame. We have designed the strut rod plate as the lower mount for the coilover shock.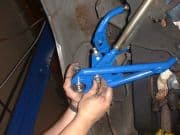 15) The strut rod has fixed bolts that are bolted through the lower control arm.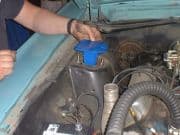 16) The new upper shock mount is installed on the shock tower using the factory holes. The stock export brace can then be bolted on top of the upper mount.
17) Installing the coilover shock is a snap. No need for special tools or even breaking a sweat. Slide the bolt through and tighten.
18) The lower end of the shock installs just as easily as the top mount.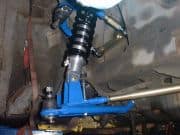 19) Now that the new suspension components are in place, we are ready to bolt up the spindle and brakes.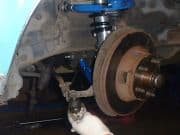 20) Reconnect the outer tie rod to the steering arm then check to make sure everything is torqued to its specified value.
21) A trip to the alignment shop is in order before we find out what the new suspension system can really do.