SCCA Al Farier SARRC-MARRS Challenge
Victor Newman Photography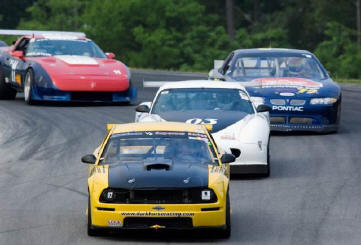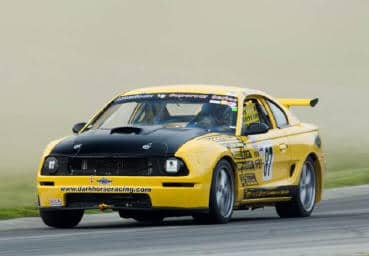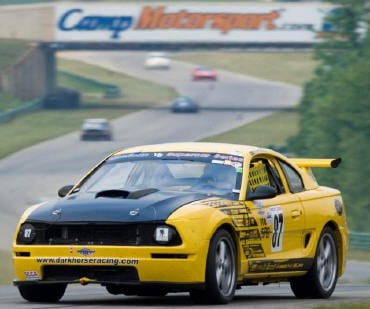 VIR (Full Course ) MAY 11th-13th
Dan Schlickenmeyer and his #11 Sportsman Mustang…….. 3rd overall at VIR …Best lap 2:04…..  2nd in SCCA SPO …… Go get them DAN
The American V-8 Supercar series (AV8SS) kicked off it's 2007 season at VIR the weekend of May 12th-13th. The first of a six race schedule, this was the second invitation from the SCCA for AV8SS to join them for one of their race weekends. The weekend included both a Saturday and a Sunday race with preceding qualifying sessions each day.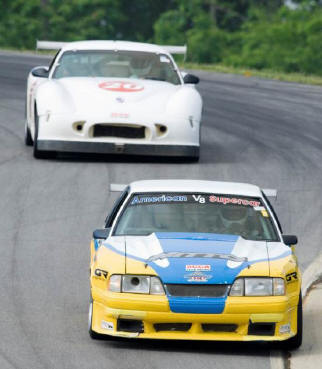 The AV8 cars would run in a group of "big bore" cars all weekend. This included SPO, GTA, GT1 and ITE classes, just to name a few. When time came for qualifying, there were a full 63 cars ready to try their luck!
When the dust had settled, Dan Schlickenmeyer in his Griggs Racing, performance Autosports Mustang would lead all AV8 competitors with a 2:05.5 lap time and an 11th place starting position. He was followed by Brion Gluck, Mike Schlickenmeyer and the rest of the AV8 field.
Saturday's race saw 59 cars take the green flag. The sight of nearly 60 ground pounders thundering down the front straight into turn one was simply awesome. Dan Schlickenmeyer in his '93 Mustang had moved from 11th to 7th by the end of lap one and then, while running in that position, got caught up in an oil spill from an SPO car directly in front of him and spun. Rejoining the track in 20th, he would eventually fight his way back to a 10th place overall finish and first of the AV8 competitors. Brion Gluck ran a strong race, steadily moving up to record a top 20 finish in his "new" '95 Mustang. Gary Henkel rounded out the top 3 in his pristine '70 Boss Mustang.
Sunday would turn out to be much like Saturday's event for most of the AV8 competitors. While all of the AV8 racers improved their qualifying positions in the field, their relative position to each other was nearly identical. Schlickenmeyer would start 7th for the afternoon race with all other AV8 competitors qualifying between 15th and 39th. At the drop of green Schlickenmeyer immediately moved to 6th where he would run for the first third of the 10 lap feature. As the race wore on, he put his head down to get into the 2:04's and eventually moved to third overall in a field of "stock cars' with slicks and ex-Trans -am cars, truly a spirited drive and a good showing for the AV8 group. Attrition would be the by word for many of the AV8 competitors in the Sunday feature. Gary Henkel was followed by Mike Schlickenmeyer and Brion Gluck to the finish to account for the only AV8 cars running at the finish.
The first outing for the AV8SS group in 2007 was certainly a success. It appears the association with the SCCA will bear fruit in the way of larger fields and increased exposure for the series. All SCCA personal were friendly and very accommodating.
The next stop for the AV8SS will be July 6th and 7th with racing under the lights at Nashville Superspeedway. This will be an AV8 sponsored weekend with no less than four other race groups in attendance, open track opportunities and car shows throughout the weekend